The
Cabriolet

mk1  is a convertible model of Volkswagen.
It's design would have been based on Golf, although there was still nothing like it in the convertible market at the time.

It was manufactured by bodybuilder Karmann in Osnabrück, Germany. Production began in 1979 and ran until 1993.


In the United States the model was originally sold as Rabbit convertible. At the time of launch, all these vehicles were powered by a 1.6 liter injection engine that produced 76 horsepower. Later, 1.7-liter and 1.8-liter gasoline engines were offered.

It consists of two doors and four seats, body with internal reinforcements and an anti-rollover bar. Vinyl or fabric hoods, having a good level of insulation. Their operation could be manual or automatic, they presented a glass medallion of electric glass and rear lights of the original Golf hatchbacks.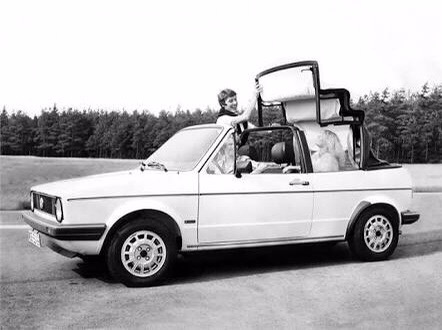 A favorite without a doubt.