Loved by many, despised by others. This is the Mk1 History, the biggest success of the European industry in history, because in these 42 years they have sold more than 30 million units.

Back in the day, there was an oil crisis and people demanded low consumption vehicles. VW was faced with the challenge of replacing a whole legend, the Volkswagen Beetle. This is where the Mk1 history begins.
The first Golf was created in the Wolfsburg factory on March 29, 1974. Designed by Giorgetto Giugiaro, it was the boom for the two-volume compact hatchbacks with tailgate. Available with three or five doors.
The Mk1 history considers it as the first compact car, beginning the era of the "straight lines", where cars were designed with straight lines and sharp edges. It was also considered a reliable and durable car.
In other markets the Golf was called Rabbit (as in the US) or the Caribe in Mexico. This first generation of Golf continued to be manufactured in South Africa until 2010, with a very few changes. Get to know it better here. South Africa Golf
FIRST REDESIGN
The Golf has its first redesign in 1979, the interior presented improvements as the inclusion of a new board with a material more padded than the previous one and the most visible change would probably be the replacement of the metallic bumpers by ones covered with plastic more enveloping of color. Mechanically, a new 1.3 L engine with 60 hp is presented.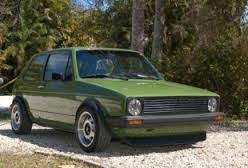 In 1981 the improvements would be presented in the rear and interior of the car. It included new rear lights, larger ones inspired by the Jetta, thus giving a more modern and luxurious appearance. Inside it opens a new dashboard. Starting this year, it becomes available with 5 doors.
Over the years, modernity reached the vehicle's design leaving behind its particular image. Some will have a throwback just remebering the good old days by seeing a mk1 passing by, some lucky others  may presume that they still have an "original" one. Undoubtedly, it marked the beginning of a new line of cars, a generation that would leave a mark on the automotive world.